UFC 125 is a pretty stacked card in my opinion. It looks to be a promising night minus a few matches that are guaranteed to go the distance.
The first fight on the card is Jacob Volkmann vs Antonio McKee. I will give this fight to Jacob Volkmann by decision. I have seen him fight before and he surprised me of how good he actually was.
Next up is Daniel "Ninja" Roberts vs Greg Soto. Hands Down this fight goes to Ninja by submission/KO/ or decision because he has that mindset of "Only One Way Out, Carried Out" (see www.carriedoutfightgear.com).
The fight after that is Mike Brown vs Diego Nunes. Mike Brown is an animal. He wins this fight by TKO or submission.
Phil Baroni vs Brad Tavares. I like Tavares in this on by KO. I loved him on TUF and he is an impressive fighter.
Josh Grispi vs Dustin Poirer. Grispi takes home the W.
Marcus Davis vs Jeremy Stephens. Both of these guys have put on great shows. I can't really pick here because it can go either way but I am going to go with Marcus Davis by decision.
The next fight is what I see as either Fight of the Night honors or Knockout of the Night honors. Clay Guida vs Takanori Gomi. Both guy shave the potential to KO someone and neither of them are scared to go in and bang with the other one. I am going to give this win to Takanori because he has impressed me lately. Although, don't be fooled, Clay could pull out victorious as well.
Nate Diaz vs Dong Hyun Kim. I give this fight to Diaz by submission.
Brandon Vera vs Thiago Silva. I see this fight going Silva's way by KO or TKO. The end of this fight will result in Silva pulling his thumb across his neck in that same old "I just slayed you" fashion as before.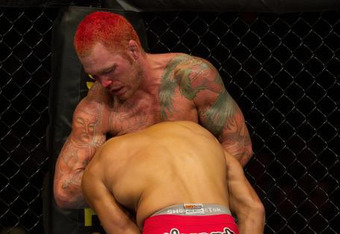 Chris Leben vs Brian Stann. I believe this will be a decision fight going to Stann. Leben is hungry because I think this victory will catapult him into the heap of top guys. So, there is also a possibility that Leben pulls out the W as well. But I am going to give it to Stann.
Frankie Edgar vs Gray Maynard. I believe this Main Event will be very boring. It will be two guys wrestling for 25 minutes. If I wanted to see that I could watch the WWE where they will throw some flips into it. I know WWE isn't real wrestling, it's entertainment. But seriously, we pay to watch Ultimate Fighting, not Ultimate Wrestling, so hopefully, Frankie Edgar and Gray Maynard pull out their strikes and submissions to give us a show.
Some of you may disagree with my picks, and that's fine. I would love to hear which guys you think are going to win. This card is stacked to some degree like I previously mentioned, I think the UFC did a great job on this card. Let's hope it pans out a little better than some of the others.
Adam Buck Clark @ Lets Bang Em MMA

Also find my Articles @
The MMA Truth
Fight Night MMA
FanvsFan
OnePunchWonder
Follow Lets Bang Em Mma: Debates and Discussions on Facebook