Since 2003, the first time Chuck Liddell and Randy Couture were locked in the cage together, the 205 lb division has been the premier weight-class in the UFC, but for much of 2010 the division has been in hibernation. Mauricio 'Shogun' Rua won the title in May from Lyoto Machida, a few weeks later Rashad Evans won an uninspired decision of Rampage Jackson and since then action in the division has been very limited.
Forrest Griffin hasn't fought in over a year due to injury and book writing, and Thiago Silva has been sidelined by injury since January. Jon Jones, the super prospect of the division, has only fought twice this year after having fought a combined ten times in the last two years. Ryan Bader and Little Nog had their forgettable clash at UFC 119 in September. And Rashad has been sitting on his title shot waiting for Shogun to recover from knee surgery rather than fight in an interim title fight.
UFC 123 kicks off the first serious action for Light Heavyweights since May, with the headline of Lyoto and Rampage and then the undercard fight of Phil Davis vs. Tim Boetsch. Davis has been by far the most active of the 205ers, notching his forth fight of the year.
The clash of Lyoto and Rampage has huge implications for the title picture in the division and is also an interesting style match up. Rampage has powerful and accurate boxing, but has turned his back on the vicious ground-and-pound that made him such a killer in Pride FC. He is very strong in the clinch and has powerful strikes there as well.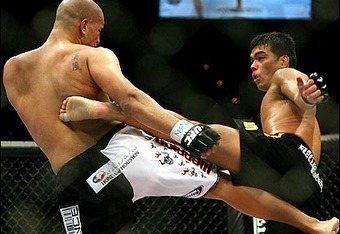 Lyoto doesn't bring a ton of power into the cage, but he has speed to spare. Lyoto's footwork is outstanding, and his hand speed makes him a counter-striking machine. He is a striking technician, and he seems to have responded to the loss of his title in the correct manner. Lyoto started training MMA again in a real gym and has stopped training karate in the Brazilian jungle.
Lyoto has the the speed and technique to dance circles around Rampage, snipping at him with kicks and peppering Rapmage with strikes when he comes in with those big, wide hooks. And to prepare for the possibility of Rampage going back to his ground-and-pounding ways, Lyoto brought in fellow Blackhouse fighter Mark Munoz and outsider Phil Davis to train with him.
Davis is a four time All American at Penn State, who trains at Alliance MMA and Llyod Irvin Jiu Jitsu. He has shown improving striking skills and a dynamite ground game. An outstanding athlete, Davis dominates opponents on the ground and has shown a knack for finishing fights. He remains the division's most under-the-radar prospect and an impressive win could send him into contendership.
UFC 123′s action will kick off a new round of 205 action spanning into the first half of next year. Bader and Jones will meet in the clash of prospects in February and Shogun will defend his title against Rashad in March. Little Nog is rumored to be facing Tito Ortiz in the first half of next year, and Forrest Griffin is facing Rich Franklin in Febuary. But it all starts this Saturday at 123.